Lot Bischoff
Senior Consultant
I joined the Recruiter as senior consultant in September 2018 and I am responsible for placing HR, Sales, and Marketing professionals, both on an interim and permanent basis. Because of my natural interest in what drives people and why they have made certain choices, I'm able to quickly make connections between the candidate and the client, both on hard skills and from a personal perspective. I can quickly move from one thing to the next and I value clear communication. Building personal, long-term relationships with our clients and candidates is very important to me. What makes me successful is my drive and perseverance, and I get real joy and energy from my work.
Before joining the Recruiter, I worked as an account and project manager at a marketing agency for IT organisations. After that, I spent more than three years working as a senior recruitment consultant for an international recruitment organisation. In that role, I was responsible for placing sales and marketing professionals in the consumer sector.
The reason I switched to the Recruiter is that it is a relatively small organisation with short lines of communication. I can spend my time doing real recruitment work in a more substantive way. I get the chance to do what I love and what energises me. Independence, entrepreneurship and flexibility are all things that appeal to me, as well. Finally, I get to work with wonderful clients, candidates and colleagues. We definitely have a 'work hard, play hard' culture here! Besides my work I am a real foodie and I love going out to dinner, taking holidays and spending plenty of time with friends and family.
Make an appointment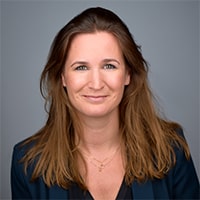 Senior Consultant
Lot Bischoff
T 06 - 39 46 10 30
M lot@derecruiter.nl