Noor van den Hombergh
Senior Consultant
What made you want to be a recruiter? A lot of people ask me that. In 2015, I made the decision to switch from the banking sector - where I worked for years as a relationship manager - to recruitment. Why? As a recruiter, you can combine your commercial drive with relationship management, really building that long-term relationship and delivering added value both for the client and the candidate.
In my current role as a senior consultant, it's important to feel and understand what the client asks of you and to find the best match for the profile on both hard and soft skills. To me, managing expectations well to avoid disappointments is really important. I have often received feedback from clients that I deliver high-quality candidates quickly and help them think through the process from A to Z.
What makes working for the Recruiter so much fun and so different is that everyone on the team is successful in his or her own way. Plus, you are given every freedom to decide how to do your own job. I really appreciate that freedom! I sincerely believe that there are few employers who give you so much space and confidence. I hope we can celebrate many more successes in the years to come!
Make an appointment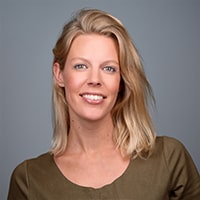 Senior consultant
Noor van den Hombergh
T 06 - 28251404
M noor@derecruiter.nl