Nieuw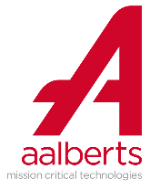 Your role as M&A counsel
This role offers an excellent opportunity for a driven M&A talent to unlock your ambition and influence results at a very successful and growing global company.
We are looking forward to meeting passionate and result-oriented candidates to further grow and support the business development and M&A activities. Reporting to the director business development / M&A, you will drive strategic projects at group level.
Aalberts holds a successful track record and is committed to drive further growth. Your role is to coordinate a wide scope of business development and M&A activities: from leading due diligences to managing full M&A processes, from preparing letters of intent to negotiating transaction documents, and from assisting in the preparation of challenging business plans to reporting on innovation and key account rates.
Your profile as M&A counsel
Known for your excellent planning skills, you have 5-7 years of international experience with legal M&A processes, ideally at an international law firm or corporate finance boutique. You take responsibility and are pragmatic in your delivery, you initiate progress and get things done, not waiting for someone else:
full identification with the company values 'the Aalberts way'; be an entrepreneur, take ownership,
go for excellence, share and learn and act with integrity!
master degree in corporate/contract law, with an interest in economics or corporate finance
excellent communication- and social skills (verbal and in writing, in Dutch and English)
clear mind and good analytical skills
structured way of working, ability to handle multiple projects simultaneously
practical and proactive problem solver: confident, mature, calm under pressure, with a positive attitude
developed business acumen, ability to understand business interests and to anticipate the nature and magnitude of issues that could arise in various settings

your future company
Aalberts engineers mission-critical technologies for ground-breaking industries and everyday life. They are where technology matters and real progress can be made. Humanly, environmentally and financially. With over 16,000 employees, Aalberts operates some 70 business locations and 80 service locations with activities in more than 50 countries. With some 25 colleagues, you will work at the head office, located in WTC Utrecht.
Aalberts is a company of mission-critical people who can't resist going beyond the line of duty - good is never good enough. Sharing and discussing 'bad' gets the company to brilliant – greatness is made of shared knowledge.
this is what we offer you
being part of a winning team in a diverse and responsible position
operate in a challenging international and entrepreneurial environment
flat organisational structure with short lines of communication
possibility to develop your personal and professional competencies (both hard and soft skills) with many career growth opportunities
attractive and competitive compensation and benefits package
Contact
If you are interested, have any questions? Don't hesitate, just give me a call or send an email. 06-14412403 or ramon@derecruiter.nl
Locatie
Utrecht
Publicatiedatum
12.02.2021
Contactpersoon
Job Search Agent
Medewerkers